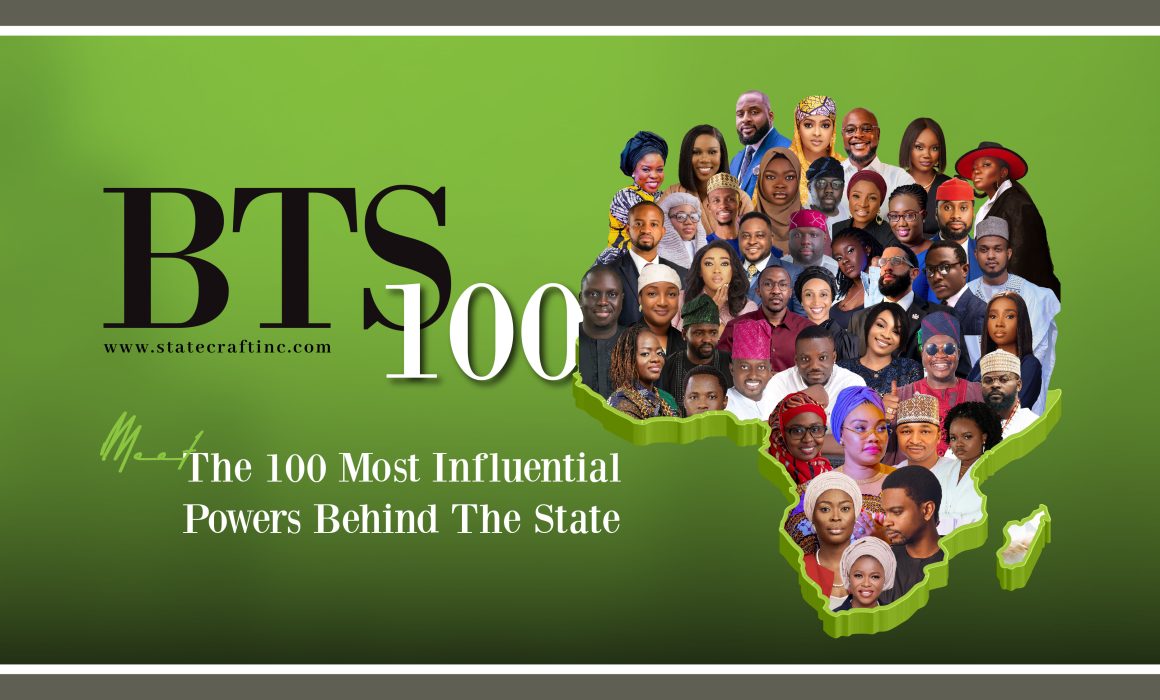 100 MOST INFLUENTIAL POWERS BEHIND THE STATE
We are thrilled to introduce BTS100, a groundbreaking publication that celebrates the outstanding accomplishments of young leaders who have left an indelible mark on Nigeria's governance landscape. In its inaugural edition, BTS100 list spotlights individuals from various sectors, including legislators, executives, consiglieres, the judiciary, and active citizens, who have significantly influenced Nigeria's governance over the past four years.
Among those featured in the BTS100 publication are individuals like Bello El-Rufai, Prince Adewale Egbedun, Adebo Ogundoyin, Asuquo Ekpenyong, Rukayat Shittu, Betta Edu, Chioma Uzodinma, Dr. Jamila Bio, Ajuri Ngelale, O'tega Ogra, Dayo Israel, Oduala Rinu, Samson Itodo, Gbadebo Rhodes-Vivour, David Hundeyin, and Adebowale Adedayo (Mr Macaroni).
Honouring Exceptional Contributions
BTS100 list recognizes and honours exceptional young leaders who have demonstrated unwavering dedication, vision, and a commitment to driving positive change within Nigeria. These leaders hail from diverse backgrounds and fields, exemplifying the richness and inclusivity of Nigeria's governance sector.
Categories of Recognition
The #BTS100 publication categorizes these Honourees into five distinct groups:
Legislators: Members of national and state assemblies who have championed important legislative initiatives and advocated for policies that benefit the Nigerian people.
Executives: Ministers, commissioners, and heads of government ministries, departments, and agencies (MDAs) and parastatals who have displayed exemplary leadership and innovation in their respective roles.
Consiglieres: Special and technical advisers, assistants, and secretaries who have provided invaluable counsel and support to government officials, contributing to the effective implementation of policies and programs.
Judiciary: Young legal minds who have demonstrated unwavering commitment to upholding the rule of law and ensuring justice is served.
Active Citizens: Engaged citizens and activists who have tirelessly worked to hold leaders accountable, advocate for social justice, and empower communities.
Join the Celebration
StateCraftinc invites you to join us in celebrating these remarkable young leaders who have shaped Nigeria's governance sector and inspired positive change. The #BTS100 publication not only acknowledges their achievements but also serves as an inspiration for young Nigerians to actively participate in shaping the future of their country.
For more information about #BTS100 click here and on social media @StateCraftinc.